Happy Birthday Poems for friends and family
|
Happy birthday poems or birthday poetry for friends or birthday poems for family are lovely, beautiful and sweet lines that you can use in birthday greeting or happy birthday cards to greet your friends and family on happy birthday. There are many types of birthday poems and birthday poetry available that you can send to your friends, family, wife, husband,father, mother, brother, sister, boyfriend or girlfriend.
Happy Birthday Poems for friends and family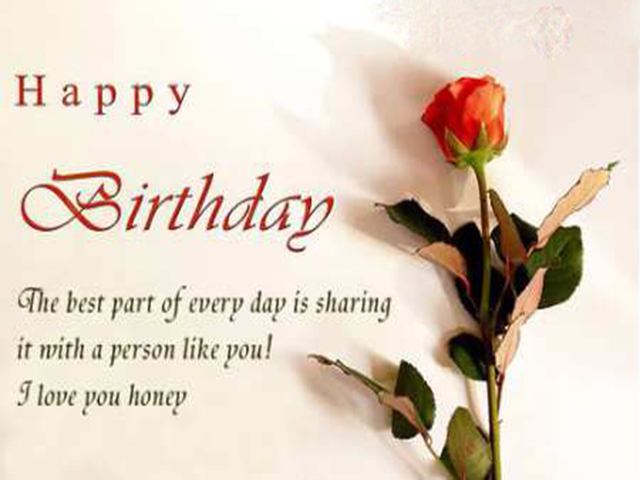 Also Read: Husband Birthday Wishes
On this page, no two poems are alike when it comes to their cuteness factor, so you will need to read each one, looking for the verse with the right amount of cuteness for you (because you need to like what you're giving as a birthday message) and, of course, the birthday girl or boy (since he/she is the recipient of your birthday wishes).
A wish for lots of birthday fun
To last until the day is done.
Hoping that all your wishes comes true,
and your birthday cake is as sweet as you!
All those nasty birthday cards,
That make fun of older folk,
Don't they know you're fragile?
They really shouldn't joke.
Sure, you may lack iron,
And vitamins A and D,
But you're still young at heart,
Younger than I'll ever be.
Happy birthday!
Also Read: Happy Birthday Wishes Images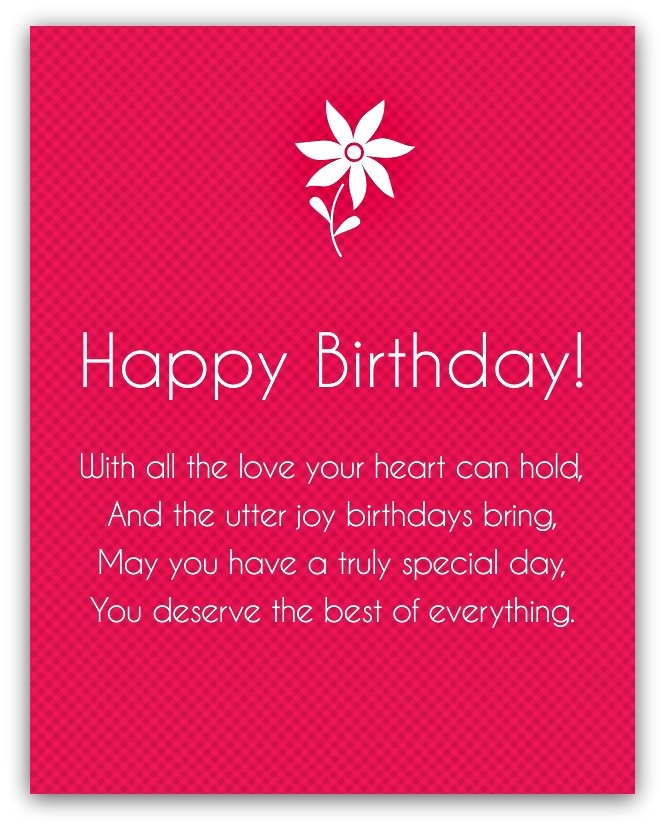 Happy Birthday Hope
I hope all your dreams come true,
for friends like you,
in this world are few.
By Harry Rei
The effect it creates can have just as much or more impact than longer poems.
Enjoy, and don't forget to share it with someone in your life.
Happy Birthday Poems for you!!
Also Read: Birthday wishes for Boyfriend
It was always in my destiny
To be your friend and never your enemy
Fate had already decided for us both
To like each other and never loathe
Best friends, we were meant to be
You are my life, can't you see?
Happy birthday
Also Read: Birthday Wishes Messages
What's so special about a birthday?
Is it the age?
The surprises and gifts?
The laughing and celebrating
with family and friends?
What's so special about a birthday is
The person behind the day.
Happy Birthday!
May You Be Blessed
The day is beautiful, occasion truly special,
Sweetness is around, with smiling faces.
Light the candles, gobble the candies,
Pray to God with faith and make some thoughtful wishes.
The merry tunes that cheer us all,
The world sings along to wish you.
With lovely gifts and jolly hearts,
I wish they all come together to bless you.
May you have a rocking Birthday. Enjoy!
Happy Birthday to you dear!!
Also Read: Birthday Wishes for Wife
You've always been my favorite,
I like you much more than anyone,
You bring out my inner child,
Now it's your turn to have fun.
May your birthday bring you joy,
And smiles all day through,
Only the best for my favorite,
Nothing's too good for you.
Happy birthday!
Also Read: Birthday Wishes for Teacher
I love being your best friend
It is the easiest thing to do
I just have to be myself
And share all my secrets with you
Hanging out with you is awesome
Spending time with you drives my worries away
May all your dreams come true
Is my wish on your birthday
Also Read: Happy Birthday Images
Related Searches: happy birthday poem, happy birthday poems, birthday poem, birthday poems, birthday poems for friends, birthday poem for dad, birthday poem for mom, birthday poem for sister, birthday poem for brother, birthday poem for girlfriend, birthday poem for wife